Training of police/prison officers in Italy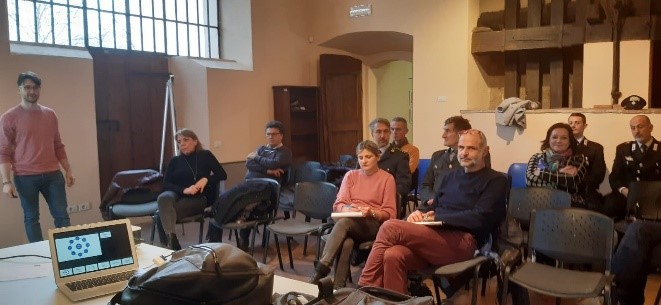 In Italy, Lucca, the five workshops took place in November 2019. The participants were 17 persons of the police, representing both the 4 different national law enforcement forces and the municipal police. The workshops represented the opportunity for intercultural training of the police, in view of possible mitigation of the stereotypes of the Roma people in the part of policemen.
Each of the five training modules were planned with a preference for a training methodology which included: (i) an introductory study for each of the approaches presented; (ii) a practical-interactive part to allow participants to familiarize themselves with the topics of the module through the use of active psycho-pedagogical methodologies that also include role-playing, focus groups, assessment centers and "collaborative games", planned ad-hoc and salient for the specific type of participants. The modules dealt with: 1. Unchosen coexistences and intergroup relationships – 2. Why intergroup relations become conflictual: identities "in action" – 3. From norms to prejudices, from prejudices to norms: how stereotypes are formed and maintained – 4. Towards a reduction of prejudices and stereotypes: what we can do – 5. From theory to practice and from practice to theory: how to implement interventions to reduce conflicts with ethical and cultural minorities.